Curtis Hyler and Jubilation
- at Antioch UMC -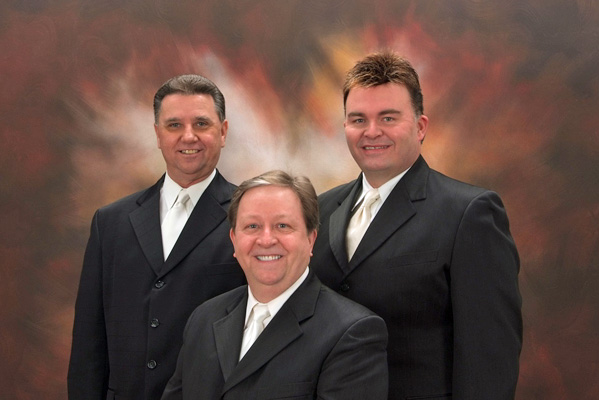 Ray Rawls - Duke Sanders - Curtis Hyler



Curtis Hyler and Jubilation Performed at Antioch UMC on Sunday March 29

Curtis Hyler manages the group and sings the lead part. He has traveled with several Southern Gospel groups from eastern North Carolina and broke onto the national scene in 1995 with the acclaimed quartet Heaven Bound. In 1998, Curtis' music ministry took on a new dimension, as under God's anointing. Curtis began songwriting. His first song, 'Get Up. Get Ready." Was recorded by Gold City, and was nominated by the SGMA for Song of the Year in 2001.

Ray Rawls is a talented, veteran tenor. In the thirty plus years he has been singing Southern Gospel music, Ray shared his distinctive sound with The Redeemers, The Journeymen, The Laymen and Movin' Up. With his tireless work effort, his vast experience in and love for gospel music, he is a tremendous asset to the group.

Duke Sanders brings an enthusiastic stage presence and outstanding vocal ability to the baritone part. A veteran of thirty-five plus years in the performing music industry, Duke has many talents that he offers the group. One of which is his extensive experience with sound and technical equipment

Everyone enjoyed the singing and the Fellowship Meal which followed.

Antioch Frank Service
As we continue to bring you different ways of worshiping on the fifth Sunday this Sunday was no different. The Outreach Committee brought together what is called a Frank Service. Last Sunday, March 29 Curtis Hyler and Jubilation brought a service of sharing the Gospel to us. They are from eastern North Carolina. They have an extensive resume' and we are grateful they could take time out to be with us. It was the highlight of our FRANK service. Now FRANK is a way to reach out to those, not only of the community, but those members who haven't been in attendance at Antioch for sometime. Each of you was asked to invite a:
Friend
Relative
Acquaintance
Neighbor
Kids

We filled up Antioch and thanks to all who did it!!! After services a luncheon was served. Thanks to our Outreach Committee who planned and executed a great day of music, fellowship and worship.

Curtis Hyler and Jubilation (from their web site)
We are about Our Fathers business, and that is sharing the gospel of Jesus Christ with as many as possible. We have a burning desire to see souls saved into the kingdom of heaven, and a love in our hearts for our Lord and Savior Jesus Christ, it is our passion to lift up the name of Jesus in song and to be used by Him as an instrument of His wonderful grace. We have been so blessed by God, and want to use the talents that he has given us for his Honor and Glory. Our favorite foundational scripture reads:
Psalms 37:4-5 Delight thyself also in the Lord; and He shall give thee the desires of thine heart. Commit thy way unto the Lord; trust also in Him; and He shall bring it to pass

A "love offering" was taken for Curtis, Ray, and Duke. It was our way of saying "Thanks" for what was an exciting and evangelical service.